I have 2 Samsung laser printers since 2 years ago, a ML-1640 and a CLP-315. Honestly, I never spent too much time to make them work in GNU/Linux, when I try to do it, only with CUPS, I couldn't do it. Now, that I'm using Fedora 99,9% of the time that I'm sitting at a computer, I had to find the way to make them work. After ask a question in ask.fedoraproject.org, I recieved 2 answers, one of which worked.
The first (and no functional) option was install the Samsung Unified Linux Drivers, I executed the installer with "$ sudo" and start the installation. During the installation, it's possible installing printers, I plug the ML-1640, and everything looks to be right. When I finished the installation, I go to CUPS page (http://localhost:631) and the printer were on the list. Among many details that I can't remember, all I know is that the printer never worked, I searched the Internet and found that the package was very problematic, then I want to uninstall the package, for this, in a console run $ sudo / opt / Samsung / mfp / uninstall / guiuninstall, this will start the uninstallation. After a few steps, the program did not leave traces (or it seems).
The second (and functional), and simpler, is installing Splix, a set of CUPS drivers that handle SPL (Samsung Printer Language). Following, I explain how I did.
Now is packaged for Fedora, so, all you have to do to install the package is run in a console $ sudo yum install splix

After installing Splix, just connect the printer (windows appear to install drivers, but cancel) and go to CUPS (http://localhost:631), once in CUPS, we go to Administration, and then to "Add printer ".

The printer appears connected in the list of local printers, select it and press "next".

After, configurations for printer name, description, location, and the option of sharing appears; We click on "next" (after set the fields to taste).

We got to the step where we define the controller, in the list "Model" select the model you are installing, then "Add Printer".

Finally, we are asked to establish the default options for the printer

Once we are in the printer's page in CUPS, we can test the printer selecting "Print Test Page" in the "Maintenance" menu.
The printer is working, but, to me personally, four printers appear installed on the CUPS printer list, so I removed the ones I didn't install (detected by the name).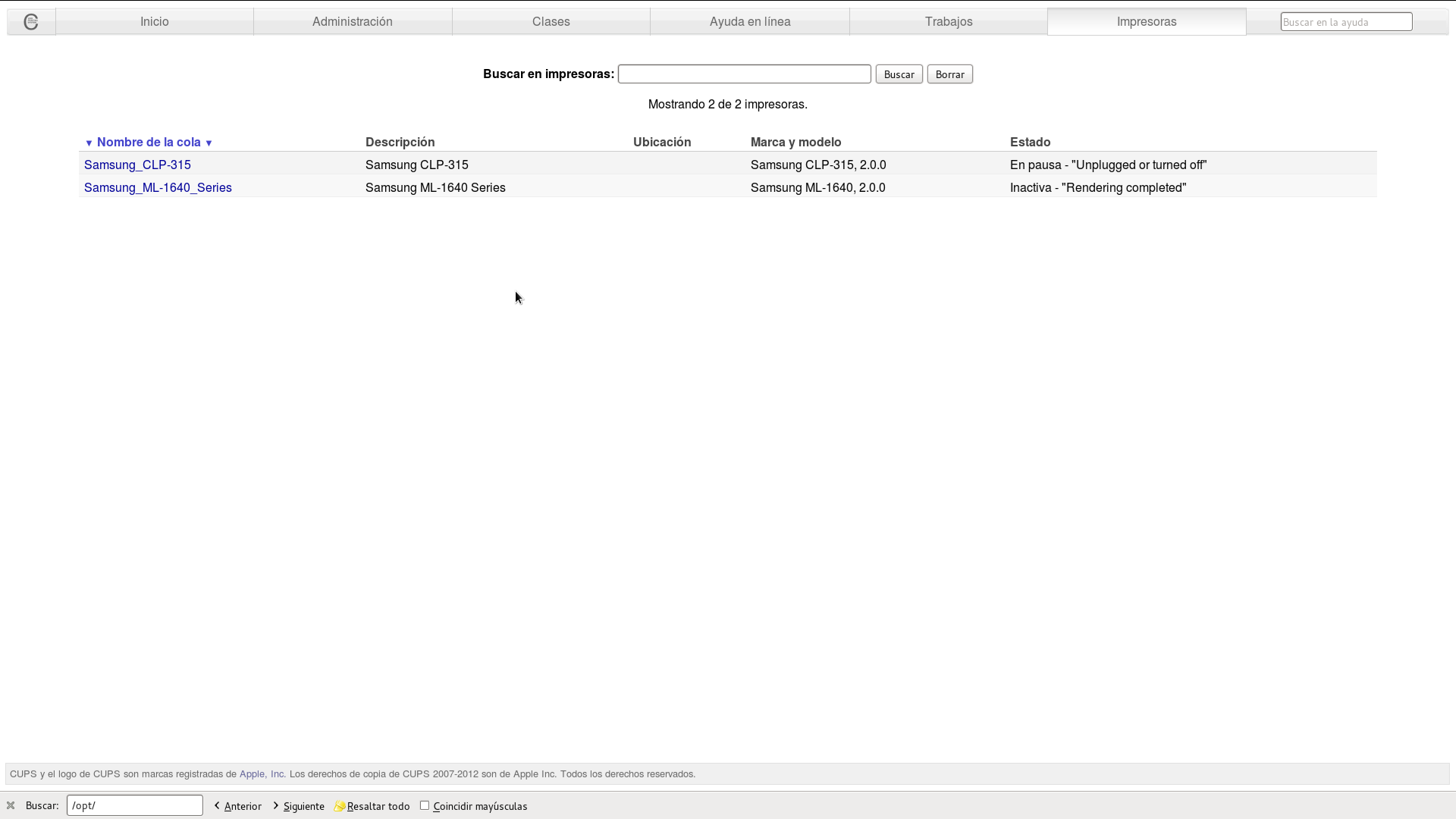 Well, that's the simply way to install the printers, I hope you have been useful.